If you love a good oyster festival – and let's face it, who doesn't? – then you'll be wondering which of the world's many oyster festivals are particularly worth your time.
There are festivals in honor of our slimy mollusk cousins taking part all over the world throughout the year, where aficionados tilt their heads in ecstasy, and slurp to their heart's content, usually washing their cold, salty treat down with some delicious local beer.
Oyster festivals usually have lots of music and dancing, as well as some breathtaking shucking competitions to enjoy, so even if you are yet to be convinced of the merits of oysters, you can still have a rollicking good time at one of these events.
Oysters can be eaten cold and raw but if you are a bit squeamish about that sort of thing, you can always start off with some nice hot oysters, baked with breadcrumbs and garlic butter, and then make the leap to raw when you feel ready (or tipsy) enough!
So, to help you choose what oyster festival to visit, here is our list of nine of the best from around the world. Why not stick the events that most appeal to you into your BUCKiTDREAM planner!
If You Like Eating Our Oysters to the Sound of Blues Music, You'll Love The New Orleans Oyster Festival, June 3 – 4, 2017 This great little oyster festival has an electric atmosphere, with world-famous jazz and blues artists entertaining the hoards of seafood-crazed oyster lovers. Arguably the South's best seafood festival (is Florida really the 'South'?), most of The Big Easy's best seafood restaurants take part and provide mouthwatering Creole-style seafood dishes and, of course, mountains of fresh, tender and meaty Louisiana oysters. Yum!
Slurp Those Delicious Southern Hemisphere Oysters at the Knysna Oyster Festival, South Africa, July 7 – 16 2017 The only southern hemisphere oyster festival to make our list, the Knysna Oyster Festival, attracts over 65,000 visitors each year for a huge party with lots of music, entertainment, sports, booze and…oysters! This ten-day event includes a fiercely contested oyster shucking competition, oyster eating competition, and the Oyster and Wine Mardi Gras, which is an elegant evening of oyster munching and wine guzzling, sorry, tasting. There is lots of sport going on during the day, so you can work off any extra weight put on from all the oysters you've consumed with some cycling, running, or kayaking. Just don't puke!
Watch the Canadian Shuckers Battle It Out at the Tyne Valley Oyster Festival, Early August 2017 This is a fun festival with an olde world feel. It's five days of strongman contests, fiddling competitions, step dancing, singing competitions, and, of course, the Miss Oyster Pearl pageant. Oh, and there also may be an oyster or two floating about the place! Canada's top oyster shuckers get their sharpest knives out and go to war for the title of Best Shucker in Canada. The winner here gets to represent Canada in the World Oyster Shucking Championship in Galway, Ireland later in the year, so it gets pretty darn tense.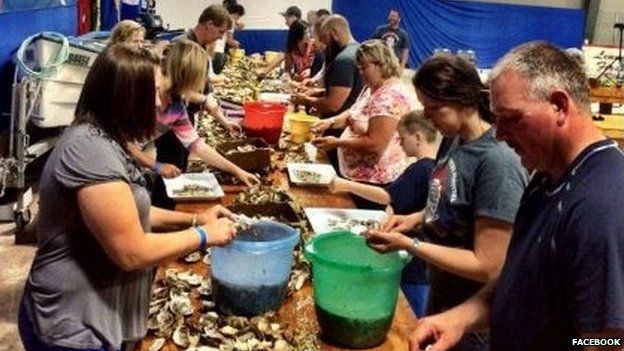 Visit the Tiny Irish Village of Carlingford to Try Possibly the Best Oysters on Earth at the Carlingford Oyster Festival, Co. Louth, Early August Probably the smallest festival on our list, but also one of the most fun, this little hooley takes place every year in the 'Wee County' of Louth, in the north-eastern corner of Ireland. Carlingford Bay provides some of the best oysters in the world, and they are much coveted all around the globe. They are definitely best sampled in Carlingford village with a wedge of hearty Irish wheaten bread, and a creamy pint of Guinness to wash it all down. This four-day festival includes an oyster pearl hunt, sailing regatta, crab fishing contest, as well as lots of fun street entertainment, food stalls, craft markets, and lots of quaint little pubs to visit (Carlingford might just have more pubs than inhabitants!).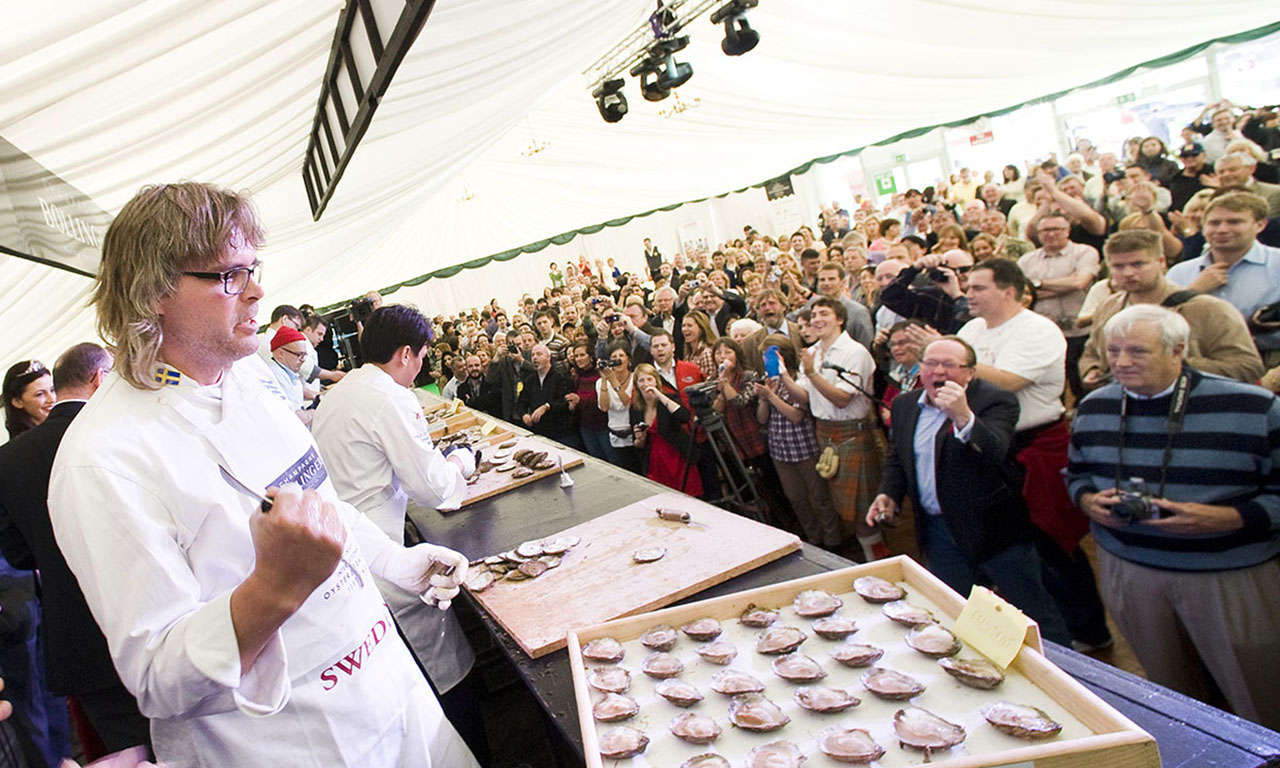 Devour the Best Shellfish that Canada has to Offer at the Prince Edward Island International Shellfish Festival, September 14 – 17 2017 The Prince Edward Island International Shellfish Festival is a four-day party crammed with cooking demonstrations by celebrity chefs, shucking competitions, and chowder bake-offs. The picturesque Charlottetown waterfront on Prince Edward Island plays host to thousands of seafood-junkies who come to marvel at the master shuckers, gorge on shellfish, and rock out to live music that goes late into the night.
The World's Best Oyster Shuckers Converge on Ireland to Compete for the Top Prize at the Galway International Oyster Festival, September 2017. This festival is probably the biggest of the year. It is the World Oyster Shucking Championship and it attracts shuckers from all over the world to compete for the title of World's Best Oyster Shucker. Galway City is ancient Celtic beauty at its finest, and is a true party town all year round, particularly during the Oyster Festival. There is non-stop action throughout the four days with a parade, tons of live music, Irish dancing, line dancing, disco dancing, dancing on tables, and some of the best oysters (and Guinness) anywhere in the universe.
Sample Massachusetts' Famous Oysters at the Wellfleet OysterFest, Wellfleet, MA, October 2017 The Wellfleet OysterFest takes place the weekend after Columbus Day in October in Wellfleet, Cape Cod, Massachusetts. This two-day street fair attracts visitors from all over North America and beyond to happily gorge on the town's famous oysters, clams, and shellfish. The Wellfleet festival has something for everyone, luscious local food stalls, cooking demonstrations, arts and crafts markets, children's play areas, live music, a road race, and the obligatory oyster shuck-off.
Cheer on Your Favorite American Oyster Shucker at the US National Championships at St. Mary's County Oyster Festival, Maryland. October 2017 This is the most competitive oyster event in the American calendar. The winner of this event takes the title of National Champion and gets to represent the United States at the World Championships in Galway. There are also a bunch of other cooking competitions happening at the St. Mary's county festival, so there are plenty of amazingly good seafood dishes to sample – the chowder here is too good for words. This fair has an amusement park, petting farm, historic reenactments, and plenty of live music to drown out the never-ending slurping sound that reverberates around the grounds.
Music and Seafood, a Match Made in Heaven! Slurp and Sing Along at The Florida Seafood Festival, Apalachicola, FL, Early November 2017 Tens of thousands of hungry visitors flock to the historic old town of Apalachicola in Franklin County each November to munch, shuck, gargle, paint, swim in, sing about, offer gifts to, sacrifice small animals too, whirl like a dervish for, and dance in the nude to celebrate…oysters. OK, maybe not quite. But there is lots of delicious seafood, an oyster eating contest (lock up your daughters!), a parade, a road race, and lots of music.
So that was our list of the nine best oyster festivals in the world. We hope you are feeling nice and inspired, not to mention peckish for some sumptuous seafood. And when you are sipping cool oysters in the warm Florida sun, or freezing your butt off with only a baked oyster and pint of Guinness to keep you warm on the windy west coast of Ireland, make sure to share your oyster festival experiences on Facebook, Twitter, and Instagram!